Jennifer Carroll Foy was born and raised in Petersburg, Virginia — a community with heart that also fell on hard times.
Petersburg has one of the highest poverty rates and one of the highest rates of unaccredited schools. The city was named one of the most dangerous places to live per capita in all of Virginia. Jennifer was raised by her grandmother, Mary Lee Carroll — a powerhouse and a leader in the community.
Her grandmother would say, "Jenn, if you have it, you have to give it."
Jennifer saw her grandmother give all she had — even when she didn't have much to give. She watched her grandmother go to work every day as a health aide in Petersburg. And when she came home at night, she usually came home to a house full of people from church who fell on hard times and needed a helping hand.
When Jennifer was a young woman, her grandmother suffered a stroke that made her a quadriplegic. Suddenly the strongest woman Jennifer knew needed to be taken care of herself. Hard choices followed, as they do for so many Virginia families. Jennifer and her aunt had to make the difficult decision to cut Mary Lee's lifesaving prescription drugs in half some months so they could afford both the medication and their mortgage.
This experience, and growing up in a community where people worked multiple jobs to barely make ends meet, her friends were victims of gun violence, and students didn't have books to take home, led Jennifer to commit herself to a life of service.
In high school, she joined the Junior Reserve Officers' Training Corps (JROTC). And upon watching the Supreme Court make the landmark decision to open the door for women to attend Virginia Military Institute (VMI), Jennifer knew she had to attend. Jennifer was one of the first women to graduate from VMI. Having spent four years at Virginia Military Institute, Jennifer learned to address problems head-on and never back down from a fight — and she deepened her commitment to put service above self.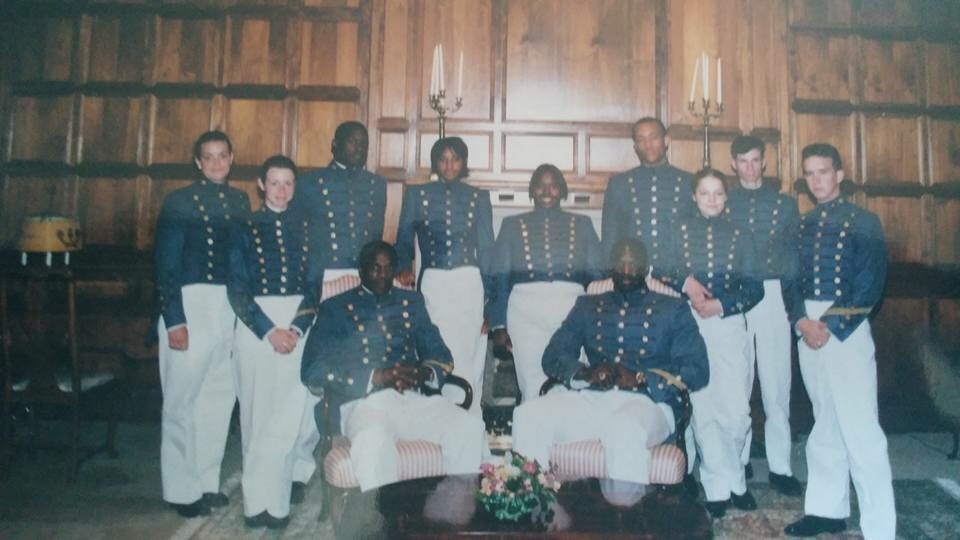 After graduation, Jennifer went on to receive a master's degree from Virginia State University and a law degree from the Thomas Jefferson School of Law. Jennifer started her career as a magistrate judge. But she quickly saw how people in her courtroom were being treated differently based on their race, economic status, or zip code. Jennifer became a public defender to help give a voice to the voiceless — children, people suffering from addiction, those experiencing houselessness, those with mental illness, and the poor.
In 2017, she took her commitment to service to the Virginia House of Delegates.
She ran for office while pregnant with her twin boys and flipped a historically red district blue. In the House of Delegates, she led the charge to clean up toxic coal ash ponds across the Commonwealth and was a part of the successful push to expand Medicaid to over 500,000 Virginians. During the 2020 General Assembly, Jennifer advanced a pro-woman, pro-labor, and pro-environment agenda, and led the charge to ratify the Equal Rights Amendment in Virginia as the bill's chief sponsor.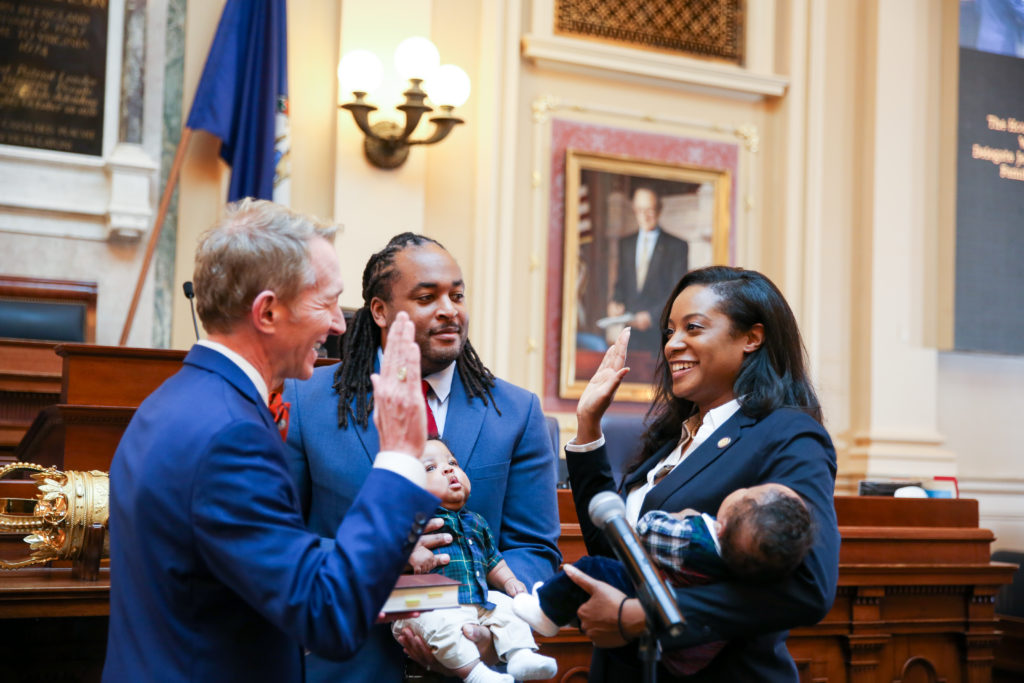 During the COVID-19 crisis, Jennifer assisted her constituents with navigating the unemployment claim process, hosted rountables with teachers, health experts, faith leaders, and small business owners to hear their concerns and experiences in light of the pandemic, and escalated their issues during session and to the highest levels of government. She called for swift action to guarantee paid sick leave for hourly workers, raise unemployment caps, address disparities in COVID-19 infections and mortality rates, and institute an all vote-by-mail system with some in-person options.
Jennifer is running for Governor because there's so much more to do.
Her vision of a Virginia that works for all of us — regardless of age, gender, orientation, race, or zip code — is possible, and it's within reach. And it's more important now than ever. COVID-19 exposed what is already just beneath the surface — something she knew all along growing up in Petersburg: too many Virginians can't earn a decent paycheck, afford their medical bills, or get ahead.
Jennifer understands the challenges that everyday Virginians face, because she lived them — juggling multiple jobs, living life as a working mom, and suffering her own life-threatening complications with her pregnancy. And she has a plan to solve them.
Jennifer is laser focused on bringing even more good jobs to the Commonwealth, helping people get back on their feet post-COVID-19, making sure Virginians have equal rights, and fighting against corruption in Richmond.
Jennifer met her husband Jeff on their second day at Virginia Military Institute. They became best friends and, years later, married. Jennifer and Jeff, and their twins, toddlers Alex and Xander, live in Woodbridge, Virginia.
Endorsements
Jennifer Carroll Foy is running a campaign powered by the people — people like you.
She has earned the support of groups and organizations that represent hundreds of thousands of Virginians and millions of Americans because they know she's got what it takes to move Virginia out of the status quo, and into the future.
"As governor, I know Jennifer will continue fighting for paid medical and parental leave and expanded access to voting while working to make Virginia a more inclusive commonwealth that works for everybody."
Danica Roem | Delegate D-Manassas
"I support Jennifer because she fights for all vulnerable Virginians especially school children."
Pamela Yeung | Stafford School Board
"I am supporting Jennifer because she will fight for all Virginians to have equal access to opportunity. Jennifer will ensure that all voices are uplifted. She can be trusted to always make decisions that are in the best interest of the Commonwealth."
Selonia Miles | Dumfries City Council
"Given our shared backgrounds as attorneys and trailblazing elected officials, I know that Jennifer Carroll Foy has seen the injustices rooted in our legal and political systems. This is why I am so sure that she is exactly the leader we need to meet this moment."
Mo Seifeldein | Alexandria City Council
"As someone who has spent years fighting for bold change in my community, I know the importance of electing uncompromising, tireless leaders at all levels of government. That is why I am so proud to endorse Jennifer Carroll Foy for Governor of Virginia."
Linda Sperling | Community Advocate
"When Delegate Foy was first in office, she met with educators to hear our concerns about funding schools. In that meeting, she took careful notes and reconnected with us prior to, during, and after the legislative session. She heard us. And I know she'll continue to hear us as Governor."
Lisa Zargarpur
"As a trailblazer in my community, I know how important it is to have strong, bold leaders like Del. Carroll Foy leading the way to Virginia's future. That is one of the many reasons why I am proud to endorse Jennifer Carroll Foy for Governor."
Margaret Angela Franklin | Supervisor (Prince William County)
"I've had the pleasure to work alongside Jennifer and witness the dedication, integrity and leadership she has displayed. The citizens of Virginia are lucky to have our future Governor, Jennifer Carroll Foy."
Kelly Convirs-Fowler | Delegate D-Virginia Beach
"I know that we need leadership in Richmond that embraces our diversity and promotes equity, progress and opportunity for all communities. Jennifer Carroll Foy has the lived experience, and the professional and legislative background to lead Virginia into a brighter future."
Kenny Boddye | Prince William County Board of Supervisors
"I'm proud to endorse my friend, Delegate Jennifer Carroll Foy because she has the proven track record of fighting for working families, helping Virginians overcome poverty with better paying jobs and resources, and ensuring every child has a bright future."
Qasim Rashid | Candidate for Congress
"Jennifer's record as a delegate, as well her background as a public defender and a foster mom, show the effective, compassionate leadership she would bring to the governorship."
Loree Williams | Prince William School Board Member
"It is essential that we elect representatives that are from within us, the working class. Del. Carroll Foy is someone every Virginian can relate to. She not only inspires others but also fosters the environment for others to be leaders."
Mansimran S. Kahlon
"I knew that I had met someone who was destined to become a voice for Virginia and the nation when I met Jennifer. She will be an example for all, but especially for students in the Commonwealth who need role models. She is one of the most dynamic and powerful speakers I have had the pleasure of hearing. I wholeheartedly endorse her."
Lillie Jessie | Vice Chair, Prince William School Board
"I know Jennifer's the candidate most committed to making Virginia's education system stronger, more fair, and more enriching for teachers and students of all backgrounds. Her broadminded, detailed approach to education reform is exactly what Virginia needs."
Justin Wilk | PWC School Board
As a Pastor and community leader, I believe I have my pulse on what Virginia needs in our next Governor. Understanding, sincerity, boldness and ingenuity! That's what Jennifer Carroll Foy brings to the table – it's time to let black women lead!
Joshua Cole | Delegate D-Stafford
Organizations
Clean Virginia
CASA in Action
Democracy for America
EMILY's List
Feminist Majority PAC
March On
People for the American Way
Run Sister Run
Richmond for All
Sunrise Movement
Virginia Justice Democrats
#VOTEPROCHOICE
Women for the Win
Working Families Party
United Brotherhood of Carpenters and Eastern Atlantic States Regional Council of Carpenters
Amalgamated Transit Union
International Union of Painters and Allied Trades District Council 51
Mid-Atlantic Pipe Trades Association
Baltimore-DC Metro Building and Construction Trades Council
IBEW Local 26
Teamsters Local 730 and Joint Council 55
American Federation of Government Employees Council 1 and Local 252
Individuals
Congresswoman Katie Porter
Congresswoman Lauren Underwood
Delegate (D-Manassas) Danica Roem
Delegate (D-Virginia Beach) Kelly Fowler
Delegate (D-Stafford) Joshua Cole
Ben Jealous, former NAACP President and civil rights leader
Supervisor (Prince William County) Kenny Boddye
Vice Chair, Prince William School Board Lillie Jessie
Supervisor (Prince William County) Margaret Franklin
Supervisor (Loudoun County) Sylvia Glass
Community Advocate Linda Sperling
Candidate for Congress Qasim Rashid
Dumfries City Council Selonia Miles
Supervisor (Prince William County) Victor Angry
Dumfries Vice Mayor Monaé Nickerson
Prince William School Board Member Loree Williams
PWC School Board Justin Wilk
Alexandria City Council Mo Seifeldein
Stafford School Board Pamela Yeung
Community Leader Dr. Veronica Coleman
Mansimran Kahlon
Petersburg Mayor Sam Parham
Petersburg Vice Mayor Annette Smith-Lee
Former Candidate for HoD Donte Tanner
Former Candidate for HoD Eric Stamps
Lisa Zargarpur
Chairman of Fairfax/Sully Dems Bryan Scrafford
Petersburg School Board Atiba Muse
Loudoun County Supervisor Juli Briskman
Alexandria City Councilwoman Amy Jackson
Richmond School Board Member-Elect Stephanie Rizzi
Vice Chairman of Loudoun County Board of Supervisors Koran Saines
Richmond School Board Member Kenya Gibson
Roanoke City Council Member Robert Jeffrey
Community Activist and Community Leader Tavorise Marks
Community Advocate and Former Candidate for Fairfax Board of Supervisors Shyamali Hauth
Charlottesville City Council Member Michael Payne
La'Veesha Rollins, Community Advocate
Gary Holland, Pastor, Activist, Founder of #ENOUGH!
Carl Armstrong, Local Minister and Community Activist
Sukeena Stephens, Community Leader
Zakiya Worthey, Community Leader and Business Owner
Wilma Jones Killgo, Community Activist
Julius D. "JD" Spain, Sr., Community Activist
Gail Robinson, Community Leader
Michelle Riddick, Community Leader and Business Owner
Donya Washington, Founder of Virginia Kids Eat Free
Charita Mariner, Philanthropist
Shabaka Moore, Community Leader
Symone Walker, Education Activist
Cicely Whitfield, Community Advocate
Nicholas Ohia, Community Leader and Activist
Bernadette "BJ" Lark, Activist
Alisa Middleton, United Black Council President
Anthony Footé, President and Founder of BLM FXBG