VIRGINIA CAN'T WAIT
JOIN JENNIFER'S TEAM
WHY I'M RUNNING
FOR GOVERNOR
"The status quo has left us with a deeply broken system where too many Virginians are working too hard for too little. Working families need support now more than ever."
Jennifer Carroll Foy has dedicated her life to serving others. As one of the first African-American women to graduate from Virginia Military Institute, a foster mom, a magistrate judge, and public defender, Jennifer embodies the ideals of community, honor, and commitment in every facet of her life.
During her time in the legislature, Jennifer led Virginia's effort to ratify the Equal Rights Amendment, passed legislation to combat Virginia's teacher shortage, and proudly supported the successful fight to expand Medicaid to 400,000 Virginians.
She is a proud mother to twin three-year-olds, and wife to her husband Jeff, who she met her first week at VMI.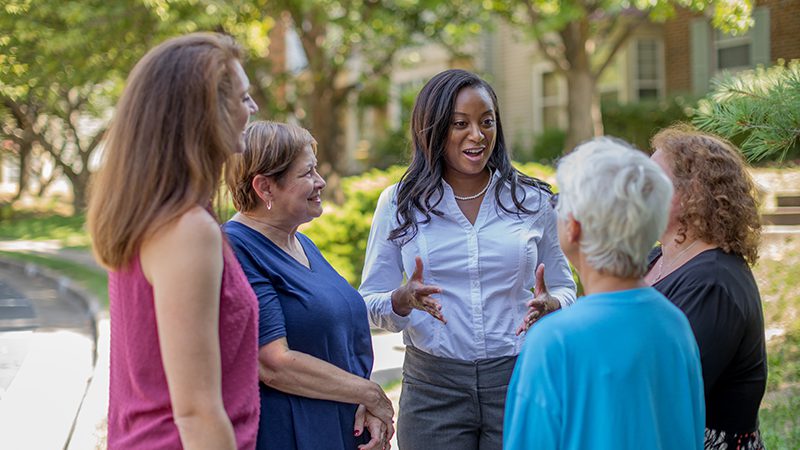 A record of fighting for a better Virginia
Jennifer grew up in Petersburg and was raised by her grandmother. Her grandmother always told her, "if you have it, you have to give it," even if you don't have much to give.
What she meant was – if you have a warm home, you open your door. If you have strength and compassion, you lend it. If you have been blessed, then be a blessing to others.
Her grandmother's call to serve others wouldn't just be a phrase for Jennifer — it would become a life-defining, core value. It drove her decision to apply to Virginia Military Institute, and was the reason she decided to become a foster parent, public defender and, later, a Delegate.
During Jennifer's time as a Delegate in the Virginia General Assembly, she's proud to have:
Fought to expand Medicaid coverage for 400,000 Virginians
Led the fight to protect our environment from big polluters
Passed commonsense gun safety reforms that will go a long way toward making communities across Virginia safer
Led the fight to make Virginia the 38th and final state to ratify the Equal Rights Amendment
Supported an increase in salaries for teachers
Passed historic legislation to expand broadband access to rural Virginia
Expanded Virginia students' access to career and technical education opportunities
Throughout the COVID-19 crisis, Jennifer has sounded the alarm on the crisis' public health and economic impacts. She encouraged investigations into racial disparities, called for paid sick leave for hourly workers on the front lines, and is leading the charge to institute a vote-by-mail process ahead of the November elections.
Now, more than ever, the status quo won't do. We need a leader who is willing to solve problems, not apply band-aids that get us from one crisis to the next.
We as Virginians have it, and so we have to give it. We have to give everything we've got to ensure no one in our commonwealth is left behind — so that our neighbors, friends, and family can live better lives.
---
The next fight starts now
Stand with Jenn
Every dollar is crucial to keeping our campaign for Virginia going.
---
Get updates on social media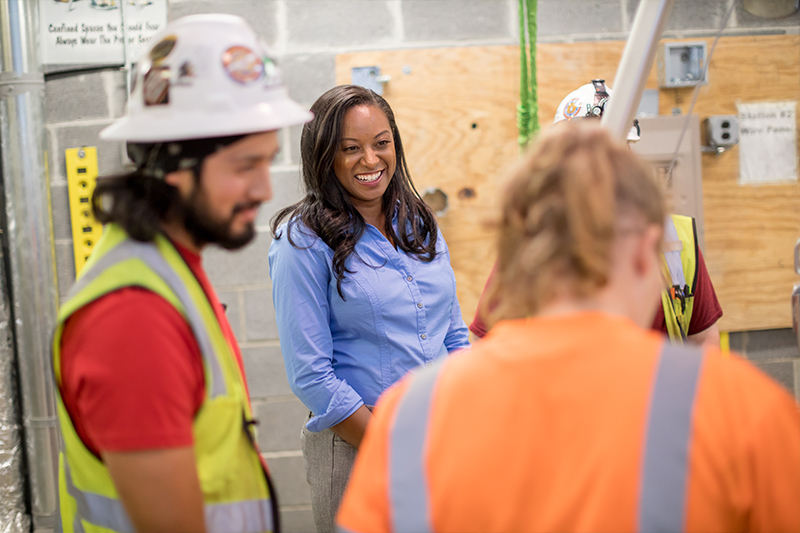 The Issues That Matter
Jennifer's Fighting For What's Important
I have the solutions to build a better Virginia because your struggles have been my struggles. I know what it's like to grow up in a world where I wasn't supposed to succeed. It's time to listen to those who've never been listened to before and deliver real results.
"Our future demands a leader with the bold vision, creativity, and stubborn tenacity to fight for what's right and never take no for an answer when serving Virginians. The ideas of the past just won't do."
Endorsements
"As governor, I know Jennifer will continue fighting for paid medical and parental leave and expanded access to voting while working to make Virginia a more inclusive commonwealth that works for everybody."
Danica Roem
Delegate D-Manasses
"I support Jennifer because she fights for all vulnerable Virginians especially school children."
Pamela Yeung
Stafford School Board
"I am supporting Jennifer because she will fight for all Virginians to have equal access to opportunity. Jennifer will ensure that all voices are uplifted. She can be trusted to always make decisions that are in the best interest of the Commonwealth."
Selonia Miles
Dumfries City Council
"Given our shared backgrounds as attorneys and trailblazing elected officials, I know that Jennifer Carroll Foy has seen the injustices rooted in our legal and political systems. This is why I am so sure that she is exactly the leader we need to meet this moment."
Mo Seifeldein
Alexandria City Council
"As someone who has spent years fighting for bold change in my community, I know the importance of electing uncompromising, tireless leaders at all levels of government. That is why I am so proud to endorse Jennifer Carroll Foy for Governor of Virginia."
Linda Sperling
Community Advocate
"When Delegate Foy was first in office, she met with educators to hear our concerns about funding schools. In that meeting, she took careful notes and reconnected with us prior to, during, and after the legislative session. She heard us. And I know she'll continue to hear us as Governor."
Lisa Zargarpur
"As the first Democrat elected to represent my district in more than two decades and the first openly lesbian member of Virginia's General Assembly, I know what it means to challenge the status quo. If we want Virginia to have a future better than its past, we need bold, forward thinking leaders like Jennifer Carroll Foy at the helm."
"As a trailblazer in my community, I know how important it is to have strong, bold leaders like Del. Carroll Foy leading the way to Virginia's future. That is one of the many reasons why I am proud to endorse Jennifer Carroll Foy for Governor."
Margaret Angela Franklin
Supervisor (Prince William County)
"This moment in history calls for a leader who will rise and thrive in an unpredictable world. Jennifer Carroll Foy is ready to answer that call and give a voice to the voiceless. She's the leader Virginia needs."
Eric Stamps
Former Candidate for House of Delegates
"I've had the pleasure to work alongside Jennifer and witness the dedication, integrity and leadership she has displayed. The citizens of Virginia are lucky to have our future Governor, Jennifer Carroll Foy."
Kelly Convirs-Fowler
Delegate D-Virginia Beach
"I know that we need leadership in Richmond that embraces our diversity and promotes equity, progress and opportunity for all communities. Jennifer Carroll Foy has the lived experience, and the professional and legislative background to lead Virginia into a brighter future."
Kenny Boddye
Prince William County Board of Supervisors
"I'm proud to endorse my friend, Delegate Jennifer Carroll Foy because she has the proven track record of fighting for working families, helping Virginians overcome poverty with better paying jobs and resources, and ensuring every child has a bright future."
Qasim Rashid
Candidate for Congress
"Jennifer's record as a delegate, as well her background as a public defender and a foster mom, show the effective, compassionate leadership she would bring to the governorship."
Loree Williams
Prince William School Board Member
"It is essential that we elect representatives that are from within us, the working class. Del. Carroll Foy is someone every Virginian can relate to. She not only inspires others but also fosters the environment for others to be leaders."
Mansimran S. Kahlon
"I knew that I had met someone who was destined to become a voice for Virginia and the nation when I met Jennifer. She will be an example for all, but especially for students in the Commonwealth who need role models. She is one of the most dynamic and powerful speakers I have had the pleasure of hearing. I wholeheartedly endorse her."
Lillie Jessie
Vice Chair, Prince William School Board
"I know Jennifer's the candidate most committed to making Virginia's education system stronger, more fair, and more enriching for teachers and students of all backgrounds. Her broadminded, detailed approach to education reform is exactly what Virginia needs."
Justin Wilk
PWC School Board
As a Pastor and community leader, I believe I have my pulse on what Virginia needs in our next Governor. Understanding, sincerity, boldness and ingenuity! That's what Jennifer Carroll Foy brings to the table – it's time to let black women lead!
Joshua Cole
Delegate D-Stafford
CAMPAIGN UPDATES