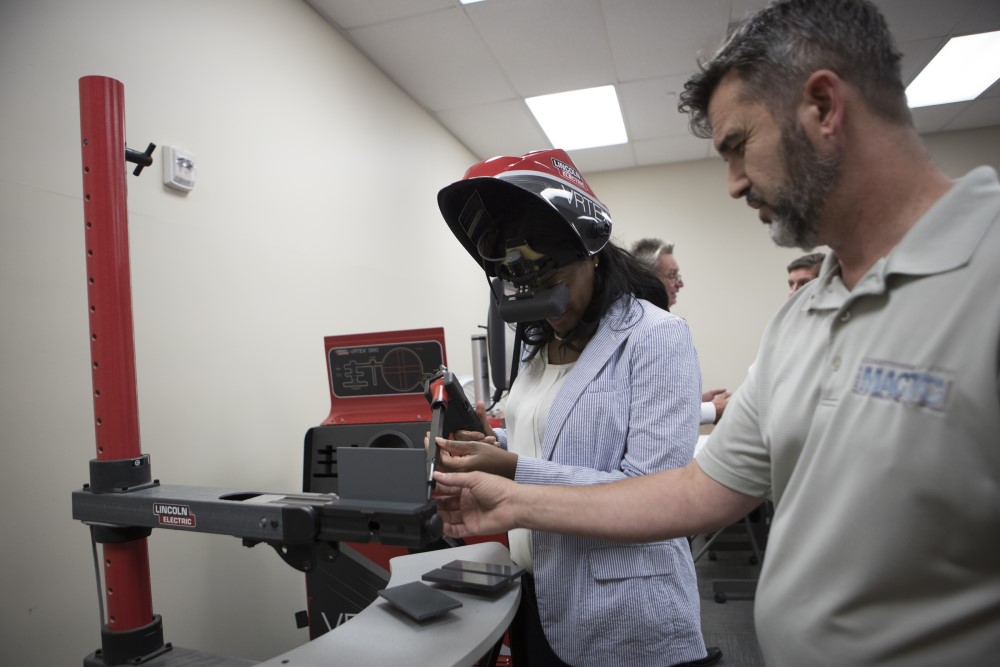 Jobs & the Economy
Here's the Problem
The past year has been one of the most challenging in our commonwealth's history. The COVID-19 pandemic has devastated our communities and our economy, throwing hundreds of thousands of us out of work, shutting the doors of thousands of businesses, separating our kids from their friends, and most tragically, causing dire health consequences for more than 500,000 Virginians who have fallen sick.
Alarmingly, our national response to this crisis has fallen well short of the measures needed to protect our families, keep small businesses afloat, and preserve jobs. And these challenges have not hit us all equally; while many of us have suffered, communities of color have too often borne the brunt of the pain. We must do better here in Virginia. I know how important this mission is because I've lived the everyday struggle of economic insecurity. I grew up in Petersburg, a town that was left behind, in a community fighting every day just to get by. And I continued to see that struggle later on as a public defender and a foster mom.
My Plans as Governor
I will help Virginia's economy get back on its feet during and after the COVID-19 pandemic. My plan centers on providing relief to the hundreds of thousands of Virginians who lost work during the pandemic, as well as small businesses traditionally left behind in favor of massive corporations and special interests. Unlike policy platforms released by politicians of the past, my plan rejects the false choice that an economic plan of this kind must be either pro-business or pro-worker: mine is both.
As Governor, I will:
Fix Virginia's broken unemployment insurance system

Improve administrative issues within the VEC to expedite arrival of needed benefits.
Implement automatic increases in funding for the VEC within a certain threshold.
Bring Virginia's weekly maximum unemployment rate up to meet the regional average.

Protect and promote small businesses, the heart of Virginia's economy

Strengthen small business access to capital by allocating $4 million per year to an expanded Angel Investor Tax credit program.
Ensure small businesses have the PPE to reopen safely and confidently through targeted tax credits on PPE purchases.
Provide small businesses with the resources they need to grow.
Support small, women-owned, and minority-owned (SWaM) businesses.
Promote programs aimed at diversifying Virginia's economy.
Create a Microloans for Veterans Program (MVP).

Build a world-class workforce

Invest in training the next generation of high-tech workers from diverse backgrounds.
Grow the field of professionals working with alternative energy resources.
Bolster public awareness of union apprenticeship programs in the skilled trades.

Build an infrastructure for businesses that supply family-sustaining jobs to prosper

Expedite economic development projects.
Expand access to the internet.
Promote opportunities in rural and Southwest Virginia.
Market Virginia to attract new business in the United States and abroad.
Crack down on worker misclassification.
My Record & Experience
My lifelong experience has driven my determination to get results for Virginians, and I have been proud to fight for Virginia jobs as a Delegate. I've always fought to make the Commonwealth one of the best places in the nation to do business and raise a family. I supported and passed legislation that doesn't just get our existing workforce what it needs to succeed, but also prepares the next generations of Virginians to drive our economy forward.
As a Delegate, I:
Fought to maximize job creation and give small businesses access to capital and resources they need to succeed.
Passed bipartisan legislation to give veterans greater access to the capital they need to start and grow a business.
Co-sponsored a bill that rewards companies for creating jobs in underserved communities.
Passed legislation to give small minority-owned businesses more opportunities to secure contracts with utilities.
Passed legislation to provide greater access to coding courses in high school, preparing our students for the 21st century economy.
Passed a bill allowing local school divisions to enter into College and Career Access Pathways Partnerships with community colleges.
Worked closely with Republicans to pass two career and technical education bills, and was named "Legislator of the Year" by the Virginia Association for Career and Technical Education. In fact, in 2018, I received an award from the Virginia Chamber of Commerce for my efforts to help workforce development.
Read more here: